Small pop up campers are lightweight, so they can tip over. They're tiny, so they must be cramped.
Sure, that's true, but you have to look on the bright side. The lightweight quality of smaller campers means you can tow them with a car and sometimes even a motorcycle. The close quarters lead to some intimate and memorable moments with your fellow campers.
Small pop ups are also inexpensive and frankly adorable. If you're not necessarily sold on the idea of getting a smaller vehicle, wait until you check out this article. In it, I will outlining 10 of what I think are the best features you'll find in a small pop up. I'm also using specific models on the market to showcase these features.
You just might be convinced to get a pop up camper by the time you're done reading!
1. Sleeping Space
Yeah, yeah, I've heard the tired argument before. Pop up campers don't have the capacity to sleep more than two or three people, right? Not necessarily.
Take a look at Aliner & Somerset, specifically the NewPort model. This is an A-frame camper so you know it's going to be tiny. Some NewPorts are just 1,150 pounds, so they're quite lightweight.
You get a four-inch mattress for sleeping in the bedroom, but that's not all. The dinette can transform into a second 39×59 mattress. That means that up to six people can fit in this pop up camper. That's right. Six people. Other campers can fit as much as eight. It's all about versatility and creativity. Not every passenger might have their own bed, but hey, having a roof over your head is a pretty nice perk when camping, isn't it?
2. Carbon Monoxide and LP Leak Detectors
Carbon monoxide, the silent killer, can get into your RV or camper. According to Forbes, each year, in the United States alone, upwards of 30,000 people will get carbon monoxide poisoning. This is often accidental. It can be fatal too, as 500 of those people will die from too much exposure to the tasteless, scentless gas.
Having a carbon monoxide detector in your pop up camper then can be a matter of life and death. One small camper on the market that includes one of these detectors is the Forest River Rockwood Premier. I've written about the Rockwood many a time in our articles about campers because it's one of the best pop ups around.
Besides its carbon monoxide detector, it also includes an LP leak detector. LP gas or propane leaks can also be fatal. While you can sometimes smell them, sometimes you don't notice a leak until it's too late. Having an LP leak detector then can also save lives.
[box type="warning"] Even though you might have a smaller vehicle, omitting life-saving devices would be foolish.[/box]
3. Refrigeration
You know what they always say about pop up campers. These are vehicles made for roughing it, for boondocking on a campsite or park. You're supposed to unplug, get out of your vehicle, stretch your legs, and start a nice bonfire. Then you can at least sleep under a roof.
We like how much pop ups let you get back to nature, don't get us wrong. It's silly to think of them exclusively for boondocking and little else, though. You can bring more luxuries of home with you, like a refrigerator.
Now, when most people think of a refrigerator in a small pop up camper, they probably envision this slim, tiny thing. While yes, it's true you can't squeeze a huge fridge into a small vehicle, that doesn't mean you have what's essentially a glorified cooler either.
For proof of that, there's the Jayco Jay Series Sport pop up. With an average length of 11 to 18 feet and an unloaded weight between 1,720 and 2,835 pounds, this isn't the tiniest camper out there, but it's by no means huge.
You get a fridge that's a little over two cubic feet. Is that the biggest refrigerator ever? No, of course not. Still, having a fridge onboard your camper will make your life easier in several ways. You can keep your drinks frosty without having to rely on the aforementioned cooler. You can also keep produce and other items with a short shelf life. That gives you more versatility with what you can eat on the road.
If you're really lucky, you might get a microwave, too. That's included with the NewPort, as is a fridge.
Oh, and to attest to the sleeping room small pop ups can have, the Jay Series Sport can fit up to seven passengers with some floorplans.
4. Stunning Interiors
When you look at the interior of some RVs, it makes you want to live in one full-time. After all, with the
bigger RVs like Class As, they have such gorgeous cabinetry, fresh flooring, and luxe living and sleeping spaces that they rival what you have back at home.
Pop up campers, by comparison, are typically very bare-bones inside. Well, that is, depending on which one you're looking at.
Coachmen, which is one of the most respected names in RVs, made its Viking and Clipper pop ups quite upscale. For instance, you get heated mattresses that are four-inches long. It can get kind of cold in a pop up depending on the time of year you go camping. Having a heated mattress might let your adventures stretch on into the early winter.
You also get Mortise and Tenon residential cabinet doors in your kitchen, laminated countertops, walnut cabinetry, and residential-grade linoleum. Yes, this is all in a pop up camper, not some fancy-pants RV. It just goes to show that pop ups are often criminally underrated. They can be comfortable vehicles for living and sleeping if you find the right one.
5. Water Tanks and City Water Fills
One area in which pop ups are lacking is the size of their tanks. Blackwater holding tanks often have a small capacity that necessitates regular dumping. If you have a graywater tank, it too needs to be dumped a lot.
Then there's your freshwater holding tank. It's small, so you can expect shorter showers and less cooking time, as there's only so much water to go around. Well, unless you have a LivinLite Quicksilver tent camper. While this camper might not look like much from the outside, it has two very handy features.
The first of these is a sizable water tank. You also get a hand-pumped sink for your city water fill. What can you use city water for? Tons of things. If you connect it to a residential faucet or a campground faucet, you can boost the pressure of your water. When it comes to showering, cooking, washing your hands, and using your toilet, water pressure is good.
It's sort of a rarity to find a pop up camper with city water hookups, so having one with these as well as a decently-sized freshwater holding tank is nothing less than a miracle.
6. Stabilizer Jacks and Other Convenient Setup Features
If you recall from my article about the pros and cons of pop up campers, one of the biggest cons is setup. Many camper owners complain that it takes too long to get their camper up and ready. It cuts into the time they could spend relaxing, unwinding, and exploring nature if they so choose.
Then, once it comes time to leave a park or campground, there's the issue of having to disassemble everything you just put together. It's a pain. I understand and would agree that's one of the downsides of a pop up camper. So too would the manufacturers, which is why many of them are making small pop ups that are easier to assemble and disassemble than ever before.
For instance, there's the Forest River Flagstaff Hard Side pop up camper. This is one of our favorites to write about because the Flagstaff Hard Side boasts such a unique-looking frame. It's mostly triangular yet boxy as well. While it's kind of no-frills inside, it's designed for fast and easy setup.
There's the hard exterior frame, which is made of steel and finished with a powder coat paintjob to prevent dings and scratches that may occur during assembly and disassembly. You also get EZ Crank Down stabilizer jacks, four of them, so it takes you less time than ever to get your camper secure and upright. Once you're ready to leave the next morning, you can remove the jacks and start the disassembly process.
I also must mention how you get a freshwater tank good for 20 gallons with the Flagstaff Hard Side. That's practically unheard of. You even get a water filter for always having potable water on hand.
7. Interior Fans
With their often-small air conditioning systems, it can get pretty warm in a pop up camper during the spring and summertime. These are prime camping times, so you don't want to miss out on them, but you don't want to sweat all night, either. That means sleeping overnight with no power to the camper and only a single open window is out of the question.
What you might do instead is run your generator all night so the AC is on and cooling down the vehicle. This can be expensive, and you're not guaranteed a great night's sleep either. You'd have to keep waking up every few hours to add more fuel to the generator before it had none. There's also the loud noise of the generator that makes it tough to get some quality shut-eye.
You can also always stay cool with your interior fans. Wait, what? You mean your camper doesn't have any fans? That's a bummer. The Forest River Flagstaff Hard Side does, and it's not the only camper out there with this feature.
Interior fans are useful for several reasons. They keep air circulating, which means if your AC is running, the cold air can travel further. Interior fans also put less reliance on your air conditioning unit. If you have a fan running, you can afford to turn down your AC a bit. There's less strain on your AC, which means it should last longer.
8. Wi-Fi Ranger with Booster
You may love the remoteness of nature found only at a park or campground, but if you have younger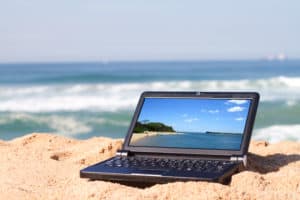 passengers like kids, they may not be as fond. Even if you are fortunate enough to have nature-loving tykes, almost everyone winds down and starts their day by reading emails and scrolling through social media.
If you're out in the middle of a national park, though, you can say goodbye to having any reliable Internet. Well, that is, unless your small pop up camper comes equipped with the Wi-Fi Ranger with booster. This is yet another awesome feature found in the Forest River Flagstaff Hard Side pop up camper, and it's one tech fans will love most of all.
What is the Wi-Fi Ranger, you ask? It's a little device that includes an external antenna. That antenna will take your Internet signal and spread it across all the devices using Wi-Fi. It works for about two miles, but with an electric antenna lift, it could be even further.
Installation is fast and easy, and the results are wonderful. Spotty Internet is kind of expected out in the middle of nature, but with the Wi-Fi Ranger, it doesn't have to be that way anymore. Isn't technology great?
9. Vinyl Flooring
Did you think vinyl flooring was an exclusive for pricier RVs like Class As? Nope, definitely not. The Jayco Jay Sport pop up has vinyl flooring from DiamondFlor, one of the most renowned names when it comes to vinyl. This flooring goes from one wall to another, so it's not like you're getting a few panels. Your whole floor will be covered in gorgeous vinyl.
There are so many reasons you want vinyl flooring in your pop up camper. First of all, it just looks good. No, scratch that, vinyl flooring looks great. You can get vinyl flooring that mimics stone, tile, hardwood, or just about any surface you want. If you often spill water in the kitchen or bathroom, vinyl will retain the water without it sinking deeper into the floorboards of the camper.
Did I mention it looks great? Because it really does. When you realize you can get posh flooring and stunning interiors, a pop up camper becomes a more viable option, doesn't it?
10. Bathrooms
Finally, we had to talk about pop up camper bathrooms. This is one area that you're not going to see a lot of luxurious features, but that's okay. Some camper models, like the Jay Sport from Jayco, come with full plumbing for all appliances. If you remember, this is also the same camper that has a water heater that's a whopping six gallons.
In this instance, you get a shower and a toilet. The shower, like many campers, is outside. It's simply not feasible to put a shower in a small pop up. Even bigger campers rarely have showers. If they did, you'd have two scenarios:
a.) the shower is so small there's barely any room to move around or
b.) the shower is bigger but at the expense of the kitchen or bedroom.
A pop up camper with a toilet (or space for a toilet) and an outdoor shower is about as good as it gets with one of these vehicles. Indoor showers are typically only features of RVs anyway, which cost several thousand dollars more than even the priciest pop up.
Conclusion
[box] Small pop up campers might be regarded as cutesy and little else, but these vehicles can pack a punch. Almost everything you could ever want can be found in a pop up. I was talking about ample sleeping space, heated mattresses, carbon monoxide and gas leak detectors, city water connectors, and Wi-Fi boosters. Assembly and disassembly is also easier with special stabilizing jacks. Regarding the interior, you can also get decent bathrooms, gorgeous cabinetry and counter space, vinyl flooring, and interior fans. Now that you know all these features are available in smaller pop ups, I hope you're convinced to give one of these vehicles a try. You just might fall in love with the pop up lifestyle![/box]