So you've decided to buy your first pop up camper. Congratulations!
At this point, you're probably not as well-versed in the world of trailers and pop ups, so brand names don't mean as much to you. What you want is a dependable, durable, reliable vehicle that doesn't break the bank. It should have several amenities and room for a couple of passengers.
Your search may have led you to the Aliner Somerset pop up camper. This is a good choice for first-timers as the camper is not too large nor is it too small. It really is just right.
Is it right for you, though? In this review, I hope I can help you answer that difficult question.
What Brand Manufactures Somerset Pop Up Campers?
Somerset pop up campers are made by a brand called Aliner. The company was founded by Ralph Tait, a Bend, Oregon native. Tait began making his own A-frame campers in the 1970s and the idea really took off from there. Many people who owned RVs liked the streamlined, smaller design of the A-frame pop up. It was the perfect vehicle for travelers who didn't need much.
For years, Tait kept his production of A-frame campers to merely a hobby. It was his children who pushed him to begin selling the pop ups, and so he did. Now based out of Pennsylvania, Aliner was family owned for more than three decades.
Which Models Are Available?
A-frame campers are not the best vehicle for everyone, admittedly. Luckily, that's not all Aliner makes. Their Somerset line of pop up campers are much larger with a 12-inch box. You can choose from the Utah or the E3. Let's talk about each model in more depth now.
Somerset Utah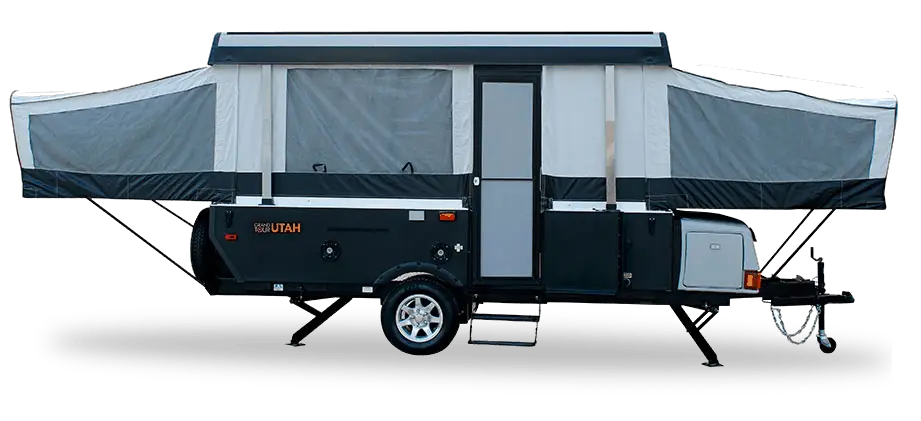 The Utah is a tent-side pop up camper that's quite lengthy. When the tent sides are retracted, this camper is 18 feet, nine inches long. If you fully open the tent sides, the length extends to 23 feet, seven inches. As mentioned, the box size is 12 feet.
With an 80-inch interior height, you'll feel plenty comfortable in the Utah. There's room for at least five or six passengers, as you get two 77×70 king-sized beds and then a second slide-out bed.
The freshwater tank is 20 gallons, which is quite generous for a pop up. You'll find it beneath the flooring. The gross vehicle weight rating or GVWR for the Utah is 3,500 pounds, while its unloaded vehicle weight is 2,760 pounds, its max carrying capacity is 740 pounds, and its tongue weight is 290 pounds. This is all fairly standard for a pop up camper.
The exterior of the Utah is equipped with many features. These include recessed taillights, a spare tire (which is great for emergencies), and dual LP tanks that are 20 pounds each and come with a cover. You'll also enjoy:
Double slide-out entry steps
An outdoor shower
Patio lighting
A center-mount tongue jack
Crank down stabilizer jacks (four)
Outdoor grill
Mesh screening
Vinyl windows
Screen door with aluminum framing
Performax 500 beds and floors
Diamond plate rear and front body panels
Stainless steel powered lift system
A roof made for an air conditioner (not clear if AC is included)
Roof insulation with seamless aluminum skinning
The Utah camper is made from a tubular steel frame. It's completed with a powder-coat finish for looks and durability.
Moving on to the inside of the vehicle, there's plenty more to love. Besides the sleeping options we've covered, you get a six-seater dinette, a kitchen with a stove and a sink, and a bathroom with a marine toilet (that can be hard to come by in a pop up camper). There's also space for a cassette toilet if need be.
Somerset E3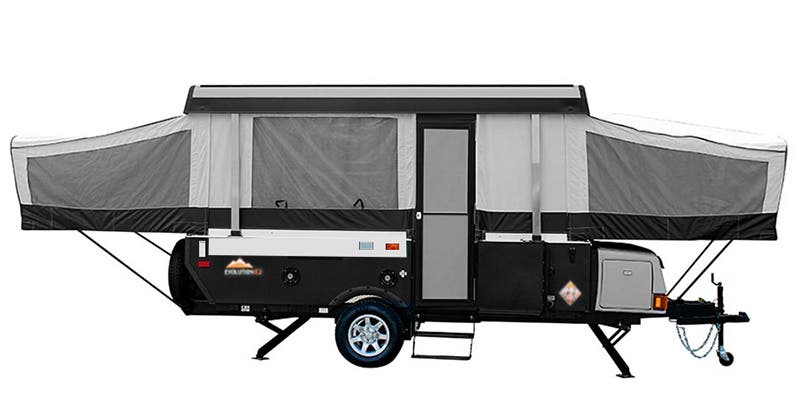 Then there's the E3, another Somerset tent-side pop up camper from Aliner. There are two submodels to choose from, the smaller E3 Box and the bigger E3 Deck. All the specs we're sharing are from the E3 Deck.
Both submodels have retractable tent walls. When closed, these walls are 21 feet, nine inches long, and when opened, they're 26 feet, five inches. The interior height is the same as the Utah, as is the size of the bed. The dinette bed measures 71×43, so it shares the same measurements as the Utah there as well.
Getting into the differences, this time you get a freshwater tank that's 35 gallons. It's still under the flooring. The GVWR is 4,400 pounds, the unloaded vehicle weight is 2,908 pounds, the max carrying capacity is 1,492 pounds, and the tongue weight is 385 pounds.
Many of the same exterior features are still at play in both submodels of the E3. The addition of the side-wall diamond plate trim is one major difference, and it's certainly one you'll appreciate if you care about the looks of your camper.
The deluxe alloy wheels are 15 inches and are outfitted for off-roading. You also get E-Z lube axles boasting heavy-duty leaf spring suspension. The 10-inch electric brakes come with five bolt hubs for secure installation and safer driving.
Let's talk about the interior of the vehicle as well. Instead of a marine toilet, you get a curve toilet. This has its own cabinet for stashing medications, creams, ointments, and other bathroom essentials. There is also an outdoor shower, just like the Utah. Many of the other indoor features mimic the Utah and the floorplan is very similar.
How Much Do Somerset Pop Up Campers Cost New?
Like many sizeable pop up campers, you should expect to pay at least five figures on your Somerset if you're buying it new. Using RVTrader.com to browse prices, the 2019 Aliner Somerset Utah costs $19,739. The E3 Deck is somewhat more expensive at $22,037.
The Somerset campers are pricier than similar models from other manufacturers. For instance, the 2019 Forest River Flagstaff 207SE costs $14,495 on RVTrader.com. This vehicle has tent sides, a gross vehicle weight of 2,057 pounds, and many modern features, like residential style kitchen faucets, faux leather seating, linoleum flooring, and an interior made of driftwood. Still, it costs several thousand dollars less than Aliner's similar pop-ups do. This is something to keep in mind, especially because Forest River is one of the biggest names in pop-up campers.
Jayco's 2019 Jay Series Sport camper, while smaller than the Utah or E3, is also much cheaper. The 8SD is listed as $9,995 on RVTrader.com. That's new. Again, Jayco is a very renowned camper manufacturer, so for their vehicles to be cheaper than Aliner's is interesting.
How Much Do Somerset Pop Up Campers Cost Used?
The price of used pop up campers varies. It all depends on where you decide to buy the vehicle and the price set by the third party. That said, RVTrader.com is a reliable site for browsing and buying your next camper or trailer. All the prices we're citing come from them.
Here's a smattering of price examples so you can get a feel for how much you may pay for a used Aliner Somerset:
2018 Somerset E3 — $21,995
2017 Somerset Chesapeake — $7,999
2013 Somerset E3 — $10,650
2013 Somerset Grand Tour Niagara — $7,499
2014 Somerset Santa Fe — $8,805
2016 Somerset Utah — $16,999
2017 Somerset Sun Valley — $11,995
2017 Somerset Newport — $8,997
Where Can You Get a Somerset?
Now that you've reviewed the prices, you might be interested in buying your own Somerset pop up camper. Where can you go to do that?
If you want a brand-spankin'-new camper, then we recommend you go through Aliner's website. There, you can request a quote. All you have to do is choose the camper model you're interested in. Then, type in your first and last name, your address, your phone number, and your email address.
A representative from Aliner will get back to you and send you a quote. The quote may just be for the base vehicle price before you add any other features, so do keep that in mind. If you have any further questions about the quote you receive, we recommend you take it up with the Aliner representative you emailed or chatted with.
You can also use the Aliner website to look up dealers that sell Somerset pop up campers. Simply input your zip code or full address. The site will then populate a map that shows you all the local retailers selling Somersets. You'll see the full name of the store/retailer, the address, a phone number, an email address, and the distance from you. You can even get directions straight to the retailer on Aliner's website.
If you can't go directly through Aliner to get your Somerset camper, then you still have plenty of other options. For one, you can use RVTrader.com. There are also tons and tons of RV retailer sites like RVTrader that you can try.
What if you can't nail down a Somerset that fits your budget on sites like RVTrader.com? Don't give up hope yet. You can always try Facebook's Marketplace, eBay, or Craigslist.
If you are going the third-party route, we must offer you a few points of caution:
Always do your due diligence. Research the Somerset model you're looking into both inside and out. Get an official quote from Aliner and then use that to compare prices. This will help you ensure you don't get swindled.
Do your homework on the third-party seller, too. Are they reputable? Have other people who've done business with them had bad experiences and complained? No seller is perfect, but if they have a poor reputation, that's a good indicator to stay away.
Only buy from sellers who are local to you unless you want to go on a road trip just to get your camper home.
Always read the list of features and amenities carefully. If you have questions, be sure to ask. You never know what the seller might omit. Chances are, if it's not listed, you're not getting it.
Don't rely solely on pictures and videos. Make sure you can see the pop-up camper in person. When you're there, you'll want to give it a thorough inspection. Don't forget to check oft-missed areas like the roof and the undercarriage.
Always ask to take a test drive. Some issues can't be detected solely from a visual inspection.
What Kind of Warranties Does Aliner Offer?
Aliner offers warranties on its new pop up campers that are least a year old or under. That means you must have been the first person to purchase the vehicle. Even if it's not quite a year old and you're the second buyer, you won't get Aliner's warranty coverage.
According to an Aliner owner's manual from 2017, the warranty lasts for a single year. That year begins the day you buy your Somerset pop up. For that period, you're covered if there are material or workmanship defects. You won't have to pay anything for the repairs.
That said, Aliner is very clear about exclusions. If the following issues occur, you won't get coverage:
Condensation build-up in the windows or other parts of the vehicle.
You rent out the camper to anyone.
You use the camper "outside of its intended customary purpose."
You add extra equipment that impacts how the structural systems, plumbing, gas, and electrical systems work.
You do not do regular maintenance, neglect the vehicle, overload it, or otherwise misuse the camper.
Like most pop up warranties, you'll void yours in most instances if you make modifications to the Somerset camper. That includes adding new parts that Aliner does not do themselves, so be careful! If you do get a Somerset camper, make sure you read through the warranty information and really understand it.
Is It Worth It?
Now onto the biggest question. Is an Aliner Somerset pop up camper worth buying? Absolutely! This is a dependable vehicle that has a generally good reputation among other camper enthusiasts and RVers. It's not known for having mechanical or structural issues, only the wear and tear that all pop up campers experience through use.
The only aspect of owning a Somerset camper that may give you pause is the price. This is certainly understandable. After all, Aliner vehicles are not cheap at all, be those the small campers or the Utah and E3 tent-side pop ups.
For a first-timer who has never owned a pop up camper before, dropping more than $20k on a vehicle you might not even like can be a daunting prospect. If you're in this position, then your best choice would be to go used. Do your homework and be prepared to wait before you buy. If you're patient and you don't jump on the first offer that sounds good, you might be able to find a used Somerset camper that's within your price range.
You may be surprised by the limited warranty, but that's pretty much the standard with pop up campers. Forest River has the same coverage length as Aliner, just a year. Jayco extends its coverage to two years. If you're looking for a lifetime coverage plan, those would probably be offered for RVs. After all, RVs are bigger investments that are bought with the intention of driving them for many years to come. With pop ups, some people buy them just to get into the RVing lifestyle. Of course, others are more dedicated to their pop-ups and will continue buying them for life.
Overall, I say you can't go wrong with an Aliner Somerset pop up camper. Why not try one for yourself and see how you feel about it?
Conclusion
[box] Aliner is a brand that manufactures Somerset pop up campers. These days, you have two models to choose from: the Utah or the E3. Both are tent-side campers with room for up to five, sometimes six passengers depending on the sleeping configuration. There are multiple beds, a built-in toilet, and a decently-sized kitchen in both camper floorplans.Although Aliner pop ups are known for being more expensive compared to other brands, I think this is a great starting camper for a first-time owner. We hope we've made your decision easier! Good luck.[/box]