You're the type who believes the best type of friend you could have is the four-legged variety. If it was socially acceptable to bring your dog with you everywhere, you certainly would.
When it comes to camping in your pop up, you theoretically could take your pup with you on your adventures. Many pop up enthusiasts before you have done it, so why not you as well? Before you get too excited, you should know that there's a lot of homework you have to do before making such a big decision.
Tips and Info for Camping with Your Dog in a Pop Up
1. Not Every Campground and Park Allows Dogs
Do you wish you and your dog could experience the wonders of Yosemite together? Maybe you're more of a fan of Joshua Tree or Yellowstone National Park. Whatever camping dreams you have for the two of you, make sure they can become a reality BEFORE you embark.
Go online and do your research on the park or campground. Call and ask directly if dogs are allowed if the website doesn't make it clear.
Here is a great list courtesy of the National Park Service that shows which parks and campgrounds accept dogs. It's a countrywide map. As you can see just from a passing glance, there are tons and tons of parks that welcome pups.
Just because your dog is allowed doesn't always necessarily mean the park is dog-friendly. True, there are some campgrounds like Acadia National Park in Maine that boasts more than 100 miles of trails you and your dog can enjoy together. Not all parks will be like that, though.
You also have to anticipate two things:
The first is that you may have to pay an extra fee to bring your dog to a national/state park or campground.
The second is that your pup may be restricted from going in certain areas. Typically, this is undeveloped backcountry. If that's the case, then you need to respect those rules. These parks don't have to let any dogs on the grounds. They're doing it as a courtesy to animal lovers like you. Don't ruin it for everyone else by letting your dog have free reign of the grounds.
2. You Have to Arrange Sleeping and Sitting Spaces for the Dog
The next consideration you have to take into account is the comfort of your dog.
How big is your pup? If it's a large breed, then it's best you have a mid-sized to large camper to accommodate them. Just like smaller campers can feel cramped for tall people, the same is true of big canines. They won't have any room to run around and could get restless.
If you have a smaller breed, then a smaller camper suffices, but a mid-sized vehicle is better. Again, you want your dog to have the space to stretch their legs, so to speak.
You're going to have a make a potentially heartbreaking decision here. If your camper is too small for your dog, then it's best to shelve your dreams of the two of you adventuring together for the time being. It's within the dog's best interest.
If you find you can indeed bring your dog, then you're going to have to create spaces that are exclusively theirs. Bring their bed or buy a new one so they can get some rest while you drive. If your camper floors are not carpeted, then make sure you have towels, blankets, or other plush surfaces for your pup to sit.
3. Prepare to Stop More Often Than Usual
We humans know that we're 10 minutes from our destination and can hold it until we get there. It's not fair to ask the same of your dog. That means long stretches of nonstop driving will probably be out of the question if Fido is in your pop up camper.
Prepare to stop every 30 to 60 minutes depending on how much your dog has recently ate/drank and their age. Remember that older dogs may have to use the bathroom more often. Be accommodative to your pup. They didn't ask to go on this voyage, and while they're probably happy to be there, their comfort is paramount.
4. Always Leash up Your Dog, Even When You Usually Wouldn't
Speaking of taking your dog out do their business, when they're outside of your camper, they have to be leashed up. PERIOD. You may have the most trained, well-behaved dog in the world, but there is so much stimulation outside that could change their behavior in an instant. That squirrel they normally watch through the window is now several feet in front of them.
There's also countless scents and sights that can catch their attention and send them running away.
It would be the worst thing ever to lose your dog on a camping trip. You might not find them. That's why you should never let your dog go without their leash when they're out of the vehicle. Fido may be a little annoyed by the constant leashing up, but when you both go home together, you'll be glad you did it.
5. Get in the Habit of Inspecting for Ticks and Other Critters
Forests and trails, even those in state/national parks and other campgrounds, are full of critters and creatures. Some of these are just barely visible to the naked eye. From ticks to fleas and mosquitoes, these unwanted pests can wreak havoc on your dog's health.
To keep mosquitoes away, you can spray or apply a pet-safe repellant like this one from Amazon recommend you use it for yourself as well.
It can be hard to see ticks and fleas on the surface of your dog's coat, especially if you have a dark brown or black dog. If your dog has fleas, they'll scratch the same area repeatedly. In prolonged cases, you might also notice skin irritation, redness, and patchy baldness.
Brushing your dog's coat can reveal a case of fleas. Their feces, which is referred to flea dirt, will come tumbling out. You'll need to get your dog a flea treatment, such as a shampoo or medication, to kill off all the fleas.
Although it doesn't happen often, fleas can be passed from a dog to us people. Also, the chances of your dog getting worms increases if they have fleas, so don't wait to get them treatment.
Your dog can also get a tick infestation. They're not the only ones; ticks can pass on Rocky Mountain spotted fever, Lyme disease, and other health issues to us humans. It's harder to spot ticks than it is fleas, so preventative medication is best.
Besides insects, you also should watch out for burr and foxtails. These are two dangerous plants that can cause serious health issues for your dog. Burr can lead to granulomatous glossitis, also known as burdock or burr tongue. This occurs when your dog eats burrs they see outdoors.
Burrs can catch on to the nose and mouth, causing pain, lack of appetite, troubles with drinking and eating, drooling, mouth bleeding, and lesions. Antibiotics are typically prescribed for burr tongue.
Like burrs, if consumed or ingested, foxtail can get inside the dog. They're far more deadly though, since they can pass through to the brain. Lungs can be punctured if the foxtail gets in the throat area. All other parts of a dog's body can be affected, too. Look out for pain in the affected area, swelling, abscesses, and discharge. If left untreated, a dog could die, so quick treatment is necessary.
6. Hydration Is Crucial
Your dog is going to get a lot of exercise while camping with you. Once you park your pop up and explore,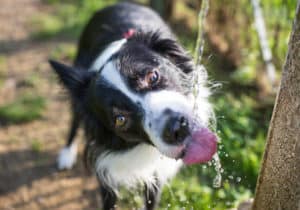 for them, the real fun can begin. All this exercise is probably more than what they're used to, and they're going to be thirsty, very thirsty.
Grabbing Fido's water bowl from home and placing it on the floor of the camper is an okay option. The water can spill as you drive, and you might trip on the bowl in the close quarters of some pop up campers. The biggest obstacle is figuring out what to do when your dog is thirsty and you're away from the vehicle.
There are tons of portable, collapsible water bowls on the market designed specifically for adventure-loving dogs like yours. Here are two of my favorite picks from Amazon:
COMSUN Collapsible Dog Bowl: For less than $10, the colorful COMSUN bowl is a great choice for your dog. You can select colors like yellow, blue, or green. The bowl is made of food-grade silicone and is free of BPAs and lead. You can use the COMSUN bowl for food (one and a half cups on average) or water (12 fluid ounces).
Outward Hound Port-A-Bowl Collapsible Travel Dog Food and Water Bowl: Need a bigger, deeper bowl for your dog? No problem! Outward Hound's Port-A-Bowl ought to suit you just fine. You can get a 24-ounce bowl or a 48-ounce one for a big dog with an equally big appetite.
For a day of adventuring, make sure you bring enough water for you and your dog. Then you can place either of these bowls somewhere clean and dry, fill it with food or water, and let Fido go to town.
7. Clean up After Your Dog
This should go without saying, but we had to mention it anyway. Your dog is going to urinate and defecate throughout the trip. This is normal. When you take them to go to the bathroom, always make sure dogs are allowed in that area. You can't clean up their urine, but you can be responsible about where your dog goes so they don't cause any damage.
When your dog defecates, clean it up. It doesn't matter how much feces they make, it all has to go. Bring doggy bags with you and have them on your person anytime you're out with your dog.
Cleaning up has to do with more than just feces. If your dog is the type who sheds, then you should brush them regularly to control the excess fluff. You should also gather up or vacuum (with a portable vacuum cleaner) any tufts of leftover fur.
8. Shade Is Your Friend
When camping out for the night, make sure you find a shady spot in which to do so. Try to set up camp around trees if possible, since these often cast long shadows that can provide some reprieve from warm weather. This will prevent your dog from overheating and let you both get some quality shuteye.
9. Creature Comforts Are Appreciated
While your dog will be close by at all times, you won't always be spending time with him or her. Your pup may choose to take that time to doze off, but what if they don't? You have to give them some form of stimulation for those times where your attention is elsewhere.
Bring a few of their toys from home. From squeaky toys to chew bones, your dog will love their creature comforts and they certainly won't be bored. Just don't go tossing toys outside in a fevered game of fetch.
10. Plan Vet Visits Before and After the Trip
By this point, you're pretty much all ready to bring Fido with you on a fun pop up camper trip. Before you do, schedule an appointment with their veterinarian. Make sure your dog is all caught up on their shots. If they're not already taking medication for heartworm, fleas, and ticks, then get them on the appropriate meds. Recall from earlier in this article that medications for critters like fleas and ticks is the best way get rid of the infestation.
If your dog has medication they must take every day, then bring enough that they don't have to go without during your adventure. Once you get back home, schedule a follow-up appointment with the vet. This is just a customary checkup to make sure your dog is free of burrs, foxtails, fleas, ticks, and other parasites. You also want to know for certain that your four-legged friend has no injuries or illnesses.
Conclusion
You're interested in bringing your dog with you on your pop up camper adventures. To decide if that's in your pup's best interest, you have to consider the size of your camper. If it's too small to comfortably fit your dog, then it's best to leave them home. You also have to check with the campsite or park you plan on staying at to confirm if they accept dogs.
If you've gotten the green light to this point, you're still not done with your preparations. You'll need to bring a dog bed, toys, and a leash or harness for your dog. They'll need food and collapsible bowls for eating and drinking on the go.
By keeping your dog leashed up at all times, safeguarding them from hazards like insects and dangerous plants, and ensuring they're hydrated and cool, they'll grow to love camping in the wilderness as much as you do.