If you're looking to make 2019 the year you own a pop up camper, you have to do your research first. Most new pop ups will cost $10,000 and up, while it's rare to find a used one in the $5k range (although possible). Factors like the brand, age, condition, and amenities included can also skew the price higher or lower.
Once you do buy your camper, you still have to deal with maintenance costs, insurance, and possible monthly financing. While owning a pop up camper is not inexpensive, it is certainly worth it.
All the questions you have about price will be answered in this guide. Whether you want to go new or used, I will fill you in on prices. We'll also discuss insurance, financing, and why some pop ups are so much more expensive than others.
Ready? Let's get started.
How Much Do New Pop Up Campers Cost?
Before I get into the cost of new pop up campers, all the prices we are going to list in this article come courtesy of RVTrader.com. This is a renowned site for buying new and used RVs, travel trailers, pop up campers, and other vehicles. While the prices for a brand-new vehicle may be higher if you buy them directly from a manufacturer, the prices listed in this article will be good guidelines to follow in terms of what you can expect to pay.
If you're buying a new camper, then it's going to be a 2019 model. Don't be surprised if 2020 models begin rolling out soon. Campers, RVs, and trailers are much like cars and trucks: the next year's model debuts before the current year is up.
How much do these 2019 models cost? If you were to go for a moderately-sized pop up, such as the beloved Jayco Jay Sport Series 12UD, a 2019 model retails for about $10,995. This vehicle is 16 feet long, has a 28-gallon water tank capacity, weighs about 2,800 pounds, and can fit seven passengers.
If you wanted a Forest River Rockwood 1640ESP, you'd pay $11,354. This camper is also 16 feet long and has tent sides, much like the Jayco Jay Sport 12UD does.
Maybe you want a hard-sided pop up that has hard walls instead of tent walls. The Forest River Rockwood Premier High Wall is one of the best of the best. The HW296 model will cost you, as it goes for $19,285 on RVTrader.com. For that price, you get a 19-foot vehicle with a single slide out as well as tons of other luxe features.
On the smaller side of things, a 2019 Forest River Rockwood Premier A122S camper, which is an A-frame pop up, is significantly cheaper. You might only pay $13,662 for this vehicle. It's still a lengthy 18 feet, but it just looks tiny.
Another smaller pick is the 2019 Jayco Jay Sport Series 8SD, which is a mere 12 feet long. This vehicle goes for $9,995, so you're not even paying five figures on it. It has a 28-gallon water tank capacity, a single awning, and room for four passengers. Not too shabby, especially for the price!
How Much Do Used Pop Up Campers Cost?
Now that I've run the gamut on how much new pop up campers might cost, let's discussed some used ones. Do know that 2018 campers would qualify as used because they're no longer the newest model. Soon, even 2019s will be considered used. As you can imagine, you are not getting a used vehicle price on these newer models. They're going to be priced very closely to their original new-model cost.
Here's an example for you. A 2018 Aliner Expedition camper, while still considered used, costs $21,800 on RVTrader.com. This is an 18-foot camper with a rear sofa that has the sleeping capacity for four passengers. It's a great vehicle for sure, but probably not as cheap as you're hoping to go used.
For lower prices on your pop up camper, you'll have to look for vehicles from the early 2010s and up. For instance, a 2017 Flagstaff Classic Super Lite HW29SC costs only $9,800. Considering this vehicle has two beds, one that's 57×77 and another that's 67×77, that price isn't terrible.
Let's go a little older. A 2014 Aliner Scout on RVTrader.com is as cheap as $7,995 while a 2014 Forest River Viking 8CWS might retail for $4,947. Getting a camper for about $5k is pretty awesome, especially considering that other Flagstaff models that are even older may cost over $10k.
Want to go older still? Okay. A 2012 Coachmen Clipper Classic 1285SST with under-seat storage, a slide-out dinette, a stovetop with three burners, storage cabinets, tent beds, and a lounge might cost $8,995. Going back even further, a 2010 Fleetwood Niagara 4033, which is one massive pop up, could set you back $9,495.
Factoring in Insurance
If you've read this blog before, then you know I absolutely recommend you insure your pop up camper. Failing to do so makes the vehicle a major liability each time you take it out on the road. If the pop up ever got loose from its hitch or if you happened to mistime a turn and hit someone with the camper, your car insurance would not cover the damage. You'd have to pay for the costs of vehicle repairs (both yours and any other affected motorists) and hospital and medical bills all completely out of pocket.
That sounds awful, right? That's why you definitely should not skip camper insurance. How much should you expect to pay each month for insurance? Well, it depends on what kind coverage you need. The company you choose to work with will also play a role in the costs.
Generally, the base monthly price for pop up camper insurance is $125. That's just for insurance. The more plans or items you add onto your plan, the more the cost will increase. Make sure you keep that in mind.
If you can indeed get pop up camper insurance for $125 every month, then annually, you'd shell out $1,500 on the nose. It's true that owning a camper isn't cheap, but that $1,500 can save you so much more money in the long run. Not having to pay the full costs of medical bills or vehicle repairs is a feeling you can't put a price on.
Is Financing Available for Pop Up Campers?
As you can see by reviewing the prices in the earlier sections of this article, it's not cheap to get a pop up camper. Even older, used campers rarely go below $5,000. Driving a camper that's any older than 2010 is a risk on your part. There's a good chance the vehicle could break down when you need it most. The owner would have had to have taken perfect care of the camper and left it in almost pristine condition. Even then, there's still a risk.
Let's say then that if you were to get a used pop up, you'd pay $5,000 as a starting price. If it's a new camper you're interested in, the starting price would be about $10,500. Unless you get a teeny-tiny camper, though, then you'll rarely pay that price for a brand-spankin'-new camper.
[box type="info"] Any investment that's over $10k can put major financial strain on your wallet. Hopefully, before you began the process of searching around for pop up campers, you researched pricing. This way, you're not blindsided. You also should have spent a good amount of time budgeting for your purchase.[/box]
While you don't have to have the full cost of the camper upfront, you're going to have to put some money down if you plan on leaving with the keys. That may make you wonder, is there any way to get some help paying for the costs of your camper? You know, like financing?
Of course! You need to find a financial expert who can help you with a camper or RV loan. One such option is Mountain America Credit Union. They offer loans for campers, motorhomes, trailers, and RVs. You can use their calculator to determine how much you'd pay back each month on the cost of your vehicle.
Don't have a new RV? No problem! You can also get financing for a used vehicle. After all, often the cost of a used camper isn't that much lower than a new one. You're lucky to shave off a few thousand dollars, if that.
Let's say your vehicle was quite expensive, about $20,000. If you had an APR rate of 6.24 and a 144-month payment term, you'd pay $197.66 monthly, says Mountain America. It's only a little more than you might pay for insurance.
While you shouldn't ever put yourself in debt over a pop up camper, it's okay to need a little bit of extra help. If you look for specialized financial institutions in your area, you should be able to work out a monthly loan payment that works for you.
The Factors That Influence the Cost of Your Vehicle
Did the above pop up camper prices surprise you a little? Were you somewhat shocked that even used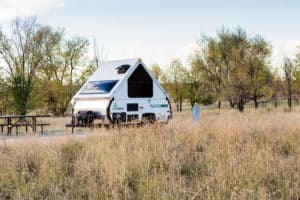 vehicles were still so expensive? Did you sit there and wonder why a 2010 camper might be more expensive than a 2012?
If so, Im here to answer your questions. In this section, we'll explain why you're so likely to see price fluctuations like the above as you shop around for your ideal pop up camper.
Brand/Manufacturer
The first reason one pop up may cost more than another, even if the first one is older, is because of the brand or manufacturer. In pop up campers, the most renowned names are Jayco, Forest River, Coachmen, and Aliner. If you see a camper from any of those four manufacturers, then it's unlikely the price will budge much. The only possible exception would be if the camper was considerably older, like early 2010s. Even still, there's no guarantee.
Forest River is arguably the cream of the crop when it comes to pop up campers. Whether it's a tent-side or a hard-walled camper you're seeking, Forest River specializes in both and produces great campers. Since their vehicles are in such high demand, they can afford to charge more for a camper than a somewhat smaller brand like Dutchmen could, even if Dutchmen is still another solid brand.
The above brands I listed are incredibly pervasive, but they're also high-quality. You know if you get a Jayco or a Forest River camper that you're sure to have it for years to come. That assurance might make the higher prices worth it for some people.
Dealers or Third-Party Sellers
If you visit the websites of the camper manufacturers I listed above, many can link you to dealers that sell the brand's vehicles. These are RV and trailer stores across the country. They may not be directly associated with the camper manufacturer in question, but the manufacturer does vouch for them.
That means the prices for a camper will be about in line with the quote you'd get directly from the manufacturer. Compare that to buying from a third-party seller. These are the people you'd find on sites like RVTrader.com, Facebook Marketplace, eBay, Craigslist, and the like. While a lot of these sites like to ensure their sellers are reputable, the third party is the one that determines the price of the vehicle.
Sure, you could try to haggle with them, but that may not be as successful as you'd hope. If they want to sell their camper above its asking price, even though it's used, that's their prerogative. You don't have to like it and you don't have to buy from them. Always be a savvy shopper and do your pricing homework so you don't get swindled.
Vehicle Age
Here's a pretty simple one. The older a camper is, the less money it will fetch. While this isn't always true (brand and third-party pricing play a role, too), it typically is. That 2019 vehicle will cost more than a 2018 in many instances, while a 2012 should be priced higher than a 2010.
As the used camper prices section of this article proved, there are of course exceptions. One of those is…
Size
A bigger pop up camper takes more effort to construct, uses more materials, and requires more time. Manufacturers will ask for more money for a bigger camper in return, as will most third-party sellers. It's fair and reasonable to assume that the bigger your camper, the more money you'd have to shell out for it.
Likewise, a smaller pop up camper will almost never be as expensive. If you want a camper that's in the five-figure range, then a small pop-up would be your best bet. If your vehicle can only sleep two or three people max, it shouldn't cost you more than $10k.
Condition
Taking care of your pop up camper from day one of ownership is incredibly important. Not only will you keep the vehicle looking and running its best, but it can benefit you in other ways. For instance, if you ever decide to part with your pop up, you could ask for more money since it's so well-maintained.
Maintenance is a regular part of camper ownership, and it doesn't always come cheap. The products and equipment you need to keep your camper rolling along are plentiful. There's a time commitment to be made as well.
No one wants a camper in bad condition. You wouldn't, either. While some basic wear and tear is easy enough to overlook and patch up yourself, there are some issues that make the camper unsaleable. This include serious structural issues, fire or electrical damage, and water leaks.
Amenities
Do you need a Wi-Fi signal booster? How about an included TV? Solar panels? Window blinds? Custom interior décor? For every choice you say yes to, the price of your pop up goes higher and higher. If you buy directly from the manufacturer, there are certain packages you could add on. Buying all your amenities at once may be cheaper, but you'll spend between several hundred to several thousand dollars on these features.
Obviously, if you're getting a used camper, the amenities are what they are. Still, a loaded camper with all the trimmings will always cost more than a bare-bones version regardless of brand and year produced.
Happy shopping!