When you attach your pop up camper to your towing vehicle, you don't use just anything for the job. Instead, you'd rely on a hitch. These are used for travel trailers and RVs of all classes, too.
Choosing the right hitch should be a primary concern of yours. After all, a hitch keeps your towing setup secure, preventing your pop up from swinging free and crashing into other motorists on the road.
If you're not sure where to even start with your pop up camper hitch search, we advise you to continue reading. In this introductory article, I will  tell you everything you need to know.
What Is a Pop Up Camper Hitch?
A pop up camper hitch is a part that connects your camper to your towing vehicle. There are many hitch types and designs that are made for all sorts of rigs. Hitches can also come in different weight classes; the lightest-weight ones are ideal for pop ups, as these vehicles tend to weigh quite little. The heavier hitches would rarely be used with campers, but rather for pulling along hulking RVs.
What Are the Hitch Types?
To understand more about the design and functionality of hitches, let's get into the different hitch types in this section.
Weight Distribution Hitch
You're incredibly unlikely to have to use a weight distribution hitch in a pop up camper setup. These are more common for RVs. This is considered a rear hitch, meaning it attaches to your towing vehicle's back. The main design features of a weight distribution hitch are its lengthy dual spring rods. These are connected to chains with metal ends.
Weight distribution hitches, as the name tells you, will control the weight of your towing setup. They do this by cutting back on tongue weight. This is the max amount of downward pressure on your hitch.
Bumper Hitch
As you might guess, bumper hitches go over your towing vehicle's bumper. The most distinguishing characteristic of this hitch is its square receiver tube. Bumper hitches are recommended for use with lighter vehicles, making your pop up camper the perfect choice.
Pintle Hitch
Less hitch-like than many others, the pintle hitch has two parts. The first of these is known as the lunette. This looks like a thick metal ring. The second part is the pintle. This resembles a metal wrench. You're meant to hook up your pintle to a truck, typically a commercial-grade vehicle. Then attach the lunette. While pintle hitches can pull extraordinary amounts of weight (somewhere up to 60,000 pounds), there's no need to ever use one as a pop up camper owner.
Gooseneck Hitch
If you own a truck and use that as your towing vehicle with your pop up, you might consider a gooseneck hitch. This fits in your truck's bed and call pull up to 30,000 pounds. While you won't ever need a weight capacity that high for a camper, it's good to know what this hitch's true capabilities are. The design of a gooseneck hitch is a long, lean metal apparatus.
Fifth-Wheel Hitch
Then there's the fifth-wheel hitch, which is very close to a gooseneck hitch in function but not design. This is a shorter and squatter hitch. Despite its smaller size, fifth-wheel hitches can still pull 24,000 pounds, so they're nothing to sneeze at. You can now tow car haulers, travel trailers, and bigger pop up campers with one of these. The king pin connects to the fifth-wheel hitch and is held in place with a jaw. These hitches are exclusive to trucks.
Front Mount Hitch
Next is the front mount hitch. This is one of the only front hitches you can get for your towing setup. It too has a square receiver. While you can't pull as much weight in the front and probably won't use this for towing your own camper, front mount hitches have many uses. These are as trailer parking aides, spare tire mounts, and for transforming your towing vehicle into a snowplow.
Rear Receiver Hitch
Finally, there's the rear receiver hitch. This is just like a front mount hitch, but it goes in the back of your towing vehicle. There's still a square receiver. If you're pulling a pop-up camper, this is another great hitch choice. Rear receiver hitches have five weight classes. The first is the lightest-weight while the fifth is the most heavyweight. Your pop-up camper would probably fall into the first, maybe the second class at most.
Do Hitches Come with Different Ball Sizes?
Now let's talk about the ball sizes of the various hitches. The hitch ball has four measurements associated with it: the ball diameter, shank diameter, shank length, and the shank rise. You can see all four labeled A through D in the diagram below.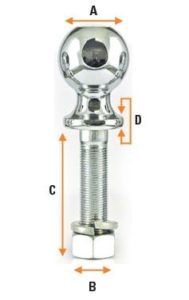 Trailers and campers absolutely do come with different hitch ball sizes. To know what yours is, you can review your camper's frame, coupler, or tongue. There, you should see the max towing capacity as well as the recommended ball size diameter.
If you are using a hitch ball with your towing setup, then you must make sure it's within the recommended weight capacity and diameter. There are two hitch ball diameters you'll come across often. These are 1-7/8 inches or 2-5/16 inches.
Knowing the shank diameter and shank length will help you choose a hitch ball that will slip into your ball mount. Each ball mount has a ball hole diameter; if your shank diameter is bigger than that, it won't fit. Most shank diameters are between ¾ inches and 1-1/4 inches.
Conclusion
A hitch is used to attach your towing vehicle to your pop up camper. There are many hitch types out there, but you won't use most of them with your lightweight vehicle. One of the best hitches for pop up campers is the rear receiver hitch. Bumper hitches aren't bad, either.
[box] Then there's the ball size of the hitch. A hitch ball is measured by its ball diameter, shank diameter, shank length, and its shank rise. You need to know these measurements to ensure your hitch ball will fit the ball mount.[/box]
With this info, you can now choose a pop up camper hitch for your towing setup.