As a nature lover, you probably own a bicycle. Maybe you were thinking of buying a few bikes this spring so your family can go riding and get some good exercise, too. You're also looking forward to going on adventures in your pop up camper once the weather warms up.
Is there any way to combine your love of biking with your love of pop ups?
There is, with a pop up camper bike rack!
Now you can take advantage of all those great bike trails you come across at national and state parks.
You may have some questions about bike racks for your camper. Where do you put the rack? How easy is it to install? Which bike racks are best?
In this article, I'll answer all those questions and more, so let's get started.
My 4 Favorite Bike Rack Picks For Pop Up Campers
Here are my top 4 recommended bike racks for pop up campers:
My #1 Recommendation

– Pro-Rack Systems Inc. Four-Bike Carrier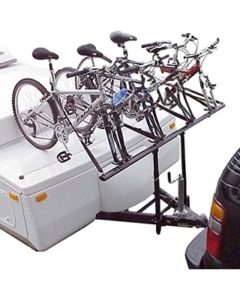 If you have a tent-sided pop up camper, your bike rack needs are going to be a little different. You can't use just any bike rack, but rather one that accommodates for the expanding and retracting sides of your camper.
That's why we like this bike carrier from Pro Rac Systems Inc. It goes right on your camper, typically the back of the vehicle. With its front-loading design, you won't struggle for hours to get the mount on so you can load up your bikes and finally get going.
Also, the rack attaches without any need to dig out your drill. That means you don't have to kiss your camper warranty goodbye, which is always a good thing. What you do get with this Pro Rac Systems Inc. bike rack is an integrated T-slot design with load bars and telescoping uprights. The flexibility of the uprights means you can adjust the height as you need it for your camper. The load bars will keep your bikes secure as you ride to your destination.
Here is a video review from a real owner:
Swagman XC Cross-Country Two-Bike Hitch-Mount Bike Rack

Are you looking for a hitch-mount bike rack for your camper or towing vehicle? Swagman is a brand that comes highly recommended. You can bring two bikes with you with this rack. The recommended tire sizes are between 20 and 29 inches. The bikes should weigh about 35 pounds each.
The rack has a center arm which can be bent so you can get into the back of your camper and never have to take the rack down. Talk about convenience. There are also upright ratchet arms. These are flexible as well so no matter the size of your bike frame, you should be able to mount with the Swagman.
If you use a receiver hitch for your bike rack, this rack works with two-inch or 1 ¼-inch hitches. You'll also appreciate the anti-wobble hitch device, as it promises extra security on your rides.
Rage Powersports Camper Trailer Bumper Bike Rack
If you'd rather attach your bike rack to the back bumper of your pop up camper, you'll want this bike rack from Rage Powersports. It's made entirely of steel that has a powder-coated black finish for an extra layer of protection.
The rack itself boasts L-style support-tie downs, two of them. Each tie-down has braces that are about 20 feet high. These will keep your bikes from being jostled about as you drive. For an additional fee, you can even get extra tie-downs for greater peace of mind.
The space for tire wells is about 1.75 inches wide. There's about 6.5 inches from one well to another, which means you can load several bikes without them bumping into each other. To hook up your Rage Powersports camper trailer bumper bike rack, you should have bumper bolts that are between 6.5 and eight inches long. If you have a square bumper that's between four and four and a half inches, this rack should be compatible as well. You can bring up to four bikes with you on your journey.
Swagman RV-Approved Four-Bike Bumper Rack
Another great bumper rack pick comes from Swagman yet again. Although their bumper bike rack works for RVs, it's a suitable pick for pop-up campers as well. You get plenty of bike storage options, including wheels and frames of all shapes and sizes.
The rack itself has a center upright bar that's designed to keep your bikes in place as you explore the country. The rack should be installed with steel U-bolts for bonus security and durability. As for the rack itself, it's made of heavy-duty steel and covered in black powder-coat paint that won't corrode.
If your back bumper has bolts that are between 6.5 and eight inches, you're good to go with this bike rack. Square bumpers can be between four and four-and-a-half inches, just like with the Rage Powersports bumper bike rack. You can also bring four bikes that are 30 pounds each.
Where Do You Mount Pop Up Camper Bike Racks?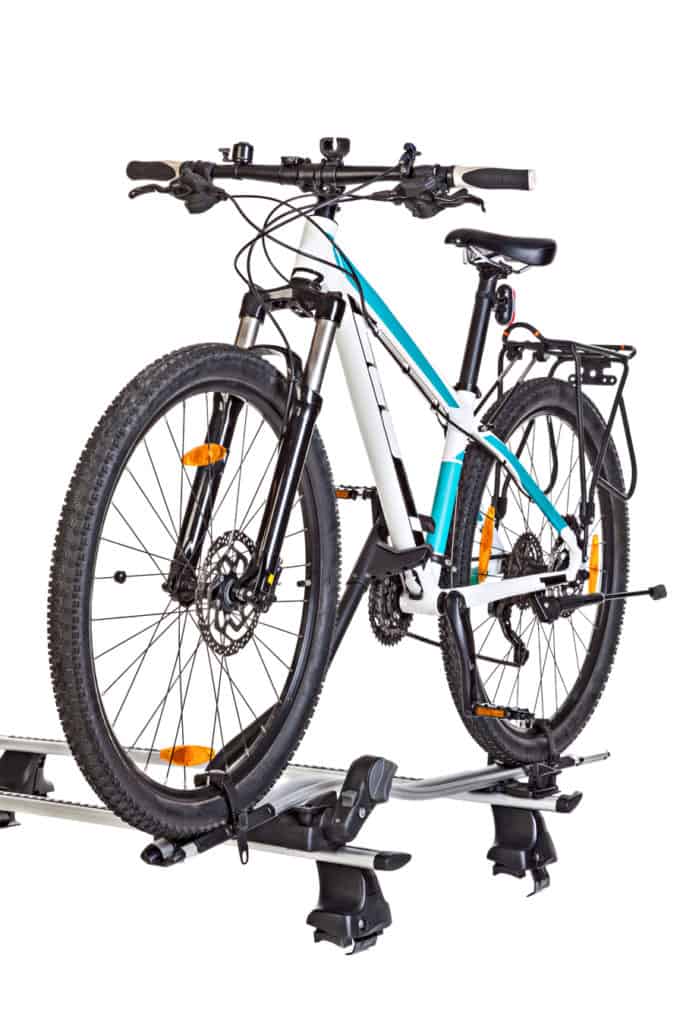 Where will you mount your bike rack on your vehicle? Is it on the camper itself or your towing vehicle? The answer is, it depends. There are several different types of bike racks you can choose from. Each has different mounting points for optimal space and convenience.
Here are the types of bike racks for campers:
Camper Roof Racks
As the name tells you, a camper roof bike rack goes on the roof of your pop up. This mounting system may come standard with your pop up or you may have had to pay for it as an add-on. If your camper has no roof rack, you can always pay to get one installed. There are even aftermarket versions you can put on your roof yourself.
If you're worried about the wind knocking your bikes over, there's less wind drag with this setup. The only downside is getting the bikes up on the roof in the first place. Depending on the height of your camper, this may be easy or a hassle. Like anything, the more you do it, the easier it becomes.
Truck Bed Racks
If your towing vehicle is a pickup truck, then you might consider a truck bed bike rack. With this setup, the bike rack goes flat in the truck bed. You might use tailgate pads, wheel mount racks, frame mount racks, or fork mount racks depending on the size of your truck bed and how many bikes you want to bring.
Towing Racks
Here's another option for a bike rack that goes on the towing vehicle. A towing bike rack uses a ball mount to attach a few bikes (up to four) to the back of your pickup truck. This setup probably wouldn't work well for other towing vehicles.
With either a platform or hanging rack, a towing bike rack gives you a lot of versatility, but you can't always turn as cleanly. This becomes truer the more bikes you have attached to your towing vehicle.
Tow Vehicle Roof Racks
Here's yet another bike rack for your towing vehicle, but this time on the roof. If you're bringing a lot of bikes, you could theoretically attach your bikes on a mount to the roof of your camper and your towing vehicle.
The taller your towing vehicle, the more of a pain it is to mount the bikes in the first place. A car would be more accessible than a pickup truck, for instance. Do keep in mind that wind drag tends to be worse with this setup compared to transporting bikes on your camper's roof.
Front Mount Hitch Racks
You'd need a front-mount hitch to attach your bikes to your towing vehicle's front grille. If you have one, then it's smooth sailing from there. Just make sure you limit how many bikes you bring. Also, watch where you put them. If the bikes are in the away of the radiator, then air can't pass through the vehicle. Make sure the bikes aren't obstructing headlights or getting in the way of your windshield.
Hitch-Mounted Racks
Finally, you can try a hitch-mounted bike rack. These attach to the back of your pop up camper. While you can fit four bikes, we don't recommend pushing it past that.
Is Installation Easy?
As you can see from the above types of bike racks, you have many options. Some have a more complicated setup than others, admittedly. If you get a bike rack with a hitch, then that would necessitate the most complex setup. Other racks that can attach to the front, back, or top of your vehicle tend to set up faster.
If you really want a bike rack for your pop up camper, don't be deterred. There are plenty of guides and video tutorials you can watch to figure out a tougher bike rack installation.
How Much Do Pop Up Camper Bike Racks Cost?
There are a lot of factors that can determine the cost of pop up camper bike racks. If your rack already came installed when you bought the camper, you probably paid for it somehow in your total fee. If you bought as an extra feature when you first purchased your camper, the cost would vary by manufacturer.
If you're buying an aftermarket version, then the costs of these bike racks will again depend on a few things. First, are you buying the bike rack new? If it doesn't require a hitch, you could expect it to cost less, but not always. The brand of bike rack you choose could also drive up price.
[box type="info"] After doing some digging, I'd say you'll pay between $150 to $500+ for a bike rack for your pop up camper or towing vehicle.[/box]
If you can't afford to drop that much money right now, you're not totally out of luck. One camper owner on PopUpPortal.com made their own customized bike rack for a 1992 Coleman pop up. They used front forks and chocks as well as an angle iron, C-shaped fasteners, clasps, and pins. In all, they paid a little over $55 for the whole project.
That's just one example of many. Again, if you look for them online, you can find countless tutorials for making your own bike rack. If you do decide to go that route, you have to triple-check that the rack is stable. If you were to go on a trip in your pop-up camper and the bikes came loose and tumbled onto the road, you could cause a major accident. Plus, less seriously, your bikes would be ruined!
Whether you use clasps, bungee cords, or whatever you feel most comfortable with, your bikes have to be secure.
Does Installing a Bike Rack Void Your Warranty?
Okay, now that you know the types of pop up camper bike racks and how much they'll cost, you have to know: what about your warranty? Will it be voided if you were to install a bike rack on your camper?
If you buy a legit bike rack, then the answer should be no. You also have to install it properly to avoid accidentally damaging any part of your camper.
While some would argue that adding a bike rack would count as modifying your camper, it's not an extreme mod by any means. You're not drilling holes in your camper or taking things apart. You're just making a small addition.
Now, if you were go to the DIY route, then that's a different story entirely. Depending on what you have to do to get your makeshift bike rack set up, you could void your warranty. It all depends on the coverage you get from your warranty.
[box type="info"] If you're scared of possibly voiding your warranty, there is a workaround. Just get a bike rack that goes on your towing vehicle instead of your camper. This way, you can still bring bikes with you on your trip without worrying about your pop up warranty.[/box]
What About Weight Distribution? Does a Bike Rack Disrupt That?
Another concern of yours when using a bike rack on your towing vehicle or pop up is weight distribution. Especially on your pop up camper, if the weight is not aligned, the vehicle becomes unstable. This increases the chances of it jackknifing or fishtailing. In both these scenarios, the pop up camper moves independently of the hitch and begins swaying dangerously. Again, you risk major accidents if you're not careful.
To prevent this, some camper owners use a weight distribution shank (typically an extra long one) with a bike rack. The reinforcing gusset on this shank is supposed to provide stability. However, depending on the type of bike rack you choose, the gusset and the rack could get in the way of one another. This is certainly the case if your bike rack goes on the towing vehicle.
If you are using a weight distribution shank with your bike rack, you could also experience more tongue weight on the hitch. Besides that, your turning clearance will be reduced. Both can be dangerous. Putting extra weight on the hitch increases the chances of your pop up camper coming loose and hitting other motorists. Having a reduced turning clearance can also lead to accidents.
We'd recommend omitting a weight distribution shank altogether then. It may sound helpful, but it can hinder you more if you're using a towing vehicle bike rack. If you're worried about weight distribution on your camper, the best thing you can do is watch what you bring on your camper. You can also mount the bike rack to your towing vehicle instead.
Conclusion
[box] If you want to hit those bike trails you always see on your pop up camper adventures, you can! You just need a bike rack to do it. These racks can attach to your camper or your towing vehicle. Mounting spots include the roof, the front of either vehicle, or the rear. Some bike racks do require a hitch for stability.[/box]